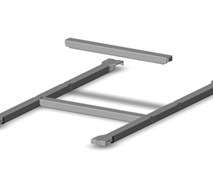 Safety Insert
To support pallets 600 x 800 mm (= half EURO pallet) on box beams.
The spacers positioned in down-aisle direction are designed to provide support for unbound or damaged pallets.
The guard is not designed as a safety net to collect loose boxes or cartons that may fall from a pallet.
Dimensions:
EURO pallet guard + half EURO support: 1100 mm, 760 mm
EURO pallet guard: 800 mm, 1000 mm
Industrial + GKN pallets: 900 mm, 1000 mm
Industrial + GKN pallets: 1100 mm, 1000 mm
Load capacity:
Maximum load per kit = 1000kg